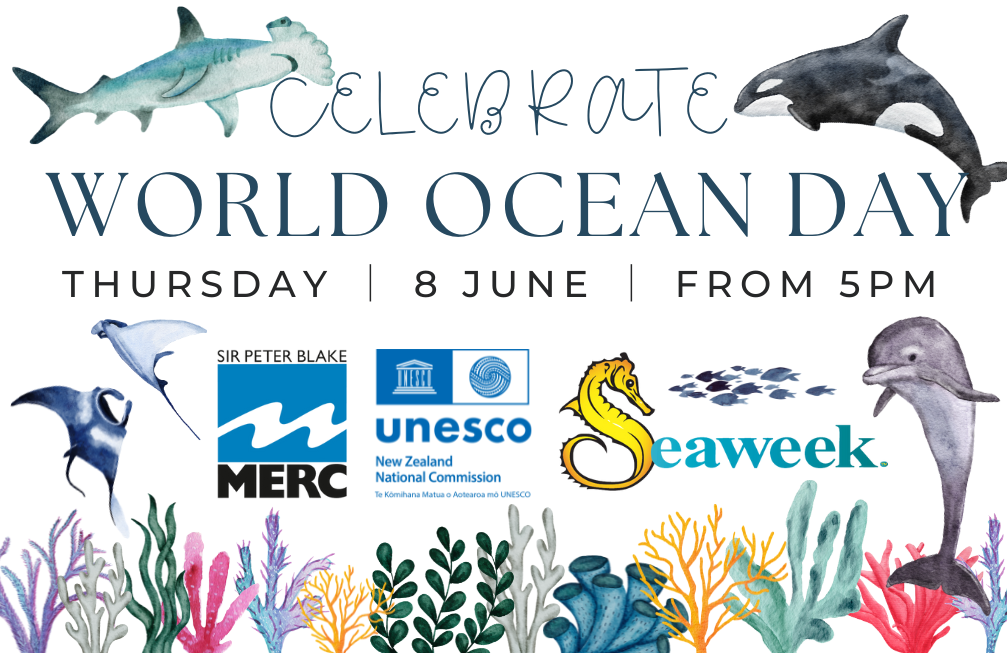 To celebrate World Ocean Day we are bringing together people that are passionate and curious about the ocean - and inviting everyone that is interested in learning more about their big blue backyard.
Join us at MERC, in Long Bay, for an event featuring:
🌊 Meet new people, connect with your community, and learn about restoration projects which are underway in the Hauraki Gulf Marine Park / Tīkapa Moana / Te Moananui-ā-Toi.
💦 An open invite to join in on a water activity or group swim between 5 & 5:15. Reap the benefits of physically connecting with our sea despite winter water temps! We have warm showers for those that would like one.
🐟 Hot drinks and food will be available inside the MERC hall before & after the seminar.
🐳 The seminar will start at 6:30 with plenty of time for questions and networking afterwards.
This event is part of the Ngā Kōrero series, brought to you by Seaweek and Sir Peter Blake MERC thanks to support from the NZ National Commission for UNESCO.
Check out the facebook event
to stay connected and get notified of any updates to the programme.

Presentations by:

Katina Conomos ~ Programme Director at Revive our Gulf
Revive our Gulf is a collaboration between The Nature Conservancy NZ, University of Auckland and the Mussel Reef Restoration Trust. They are working with iwi Māori to restore the mussel reefs of Tīkapa Moana / Te Moananui ā-Toi / The Hauraki Gulf. www.reviveourgulf.org.nz/
Sue Neureuter ~ Custodian of The Noises
The Noises are a group of islands in the inner Hauraki Gulf, the focus of many years of conservation work. The Noises Trust was established in 1995 to help ensure the long-term protection of the island group. Pest eradication and numerous conservation projects have been ongoing at the Noises and the Neureuter family aspire to enable continued research and education on and around the islands. www.thenoises.nz/

Kelsey Miller ~ Marine Scientist at the University of Auckland Leigh Marine Laboratory.
PhD candidate Kelsey Miller's research involves evaluating the potential & and feasibility of sea urchin (kina) removal as a tool for large-scale kelp forest restoration. Her research at four different locations in the Gulf has involved several hundred hours of underwater research and monitoring. profiles.auckland.ac.nz/kmil284
---
Many thanks to our guest speakers and the NZ National Commission for UNESCO for their support of our event series. Presentations will be recorded and shared at a later date. If you would like to be involved send an email to seaweek@merc.org.nz