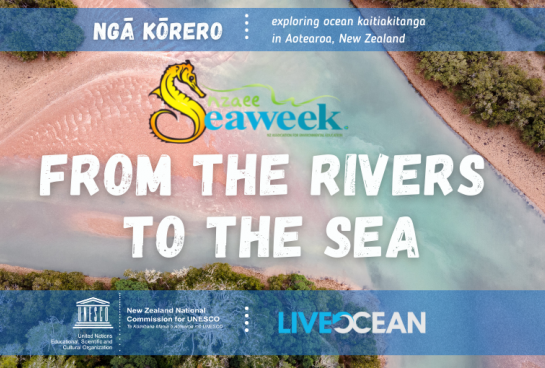 Ngā Kōrero: Exploring Ocean Kaitiakitanga in Aotearoa New Zealand
From the Rivers to the Sea – Our Interconnectedness.
Ngā Kōrero is a free webinar series which will start on the 30th of September and continue bi-monthly until end of July 2022, covering a wide range of marine topics!designed to foster better communication about various ocean-related topics. In this series you will hear from experts in marine science and mātauranga Māori, learn about new discoveries and progress in marine protection, and increase awareness of opportunities for action.
Please register for the webinar here via the zoom platform!
Or check out this event on our facebook page and follow for updates!
This webinar will focus on how our actions and land-use practices are intertwined with the health of the sea. It will be moderated by Alison Ballance, who is a former producer of Radio New Zealand's weekly science and environment programme 'Our Changing World'. She brings her passion for meeting and interviewing passionate people, sharing their knowledge and stories, as well as her background as a zoologist, wildlife filmmaker, writer and radio producer, to name a few.
Our Guest Speakers:
Dr. Mike Joy is an outspoken advocate for environmental protection and remediation of New Zealand's waterways. After seeing first-hand the decline in freshwater health in NZ, Dr. Joy attended Massey University and earned his BSc, MSc and PhD in Ecology. He is a Senior Research Fellow at Institute for Governance and Policy Studies at Victoria University of Wellington, New Zealand. Prior to that Dr. Joy lectured at Massey from 2003-2019 teaching ecology and environmental science. For two decades, Mike has been working towards strengthening connections between science and policy and seeking real outcomes to address various environmental issues facing New Zealand.
Dr. Carolyn Lundquist is passionate about understanding the mechanisms underlying healthy functioning ecosystems. She is a NIWA Principal Scientist in the Marine Ecology department with a joint position at the University of Auckland, spending time in as a Professor in the Institute of Marine Science and the School of Environment. She is a firm believer in applied science and increasing communication between science and policy makers, so the best available science is incorporated into resource management and policy at local, regional, national and international levels. Dr. Lundquist earned her BSc in Marine Biology and PhD at University of California and since then her research has spanned a wide range of various substrates; rocky and soft sediments, from coastal and estuarine to the deep sea, and including temperate and tropical ecosystems.

Dr. Conrad Pilditch is an expert on the topic of sediments in the sea, very knowledgeable in the dynamics of marine soft sediment ecosystems. His research spans intertidal to deep sea habitats, taking a closer look into how estuaries respond to two of the most important land-based stressors affecting the coast, sediment and nutrient loading. He has studied how benthic organisms interact to affect sediment transport, recruitment, nutrient fluxes and food supply. Dr. Pilditch completed his BSc and MSc at Otago, and his PhD at Dalhousie and is now a Professor of Marine Science at the University of Waikato lecturing in marine ecology and oceanography. He is part of the Science Leadership Team for the Sustainable Seas Challenge, and a leader on the 'Tipping Points' project exploring how estuaries respond to two of the most important land-based stressors affecting the coast, sediment and nutrient loading.
Ngā Kōrero is brought to you by NZAEE Seaweek with support from the NZ National Commission for UNESCO and Live Ocean Charitable Trust. Big thanks to these organizations for supporting this kaupapa.